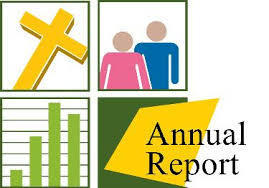 Dear Parishioners,
I am pleased to offer to all of you, this weekend, the Annual REPORT ON PARISH LIFE for the fiscal year of July 2017 through June 2018.  They are distributed at the ends of the pews.  They also will be found in the news racks by all of our entrances, at the Rectory, and can be viewed online MasterAnnualReport17-18.
This annual document gets freely printed by our bulletin company, but, is prepared by Julie Bowling and Jeff Andrea.  All financial numbers directly relate with our annual diocesan fiscal report which was received at the diocese on August 15th, reviewed and approved by the diocesan finance office, as well as our own parish Finance Council.  All other sacramental information shows you God's blessing of Catholic faith which is growing in our parishioner's young and old!  Julie keeps these records in the parish office.
IHM has had a beautiful year for so many people growing closer to Christ because of what you have provided in your offertory!  Your offertory helped us put on many adult spirituality offerings this past year as well as the Life Teen Youth Ministry.  We were able to be of service to others in the area community with a program called Christ on the Corner!
Because of your generosity we were able to offer assistance to our brothers and sisters in Christ through the Ministry for the Needy, the Giving Tree, the meal at Saint Bernard's for the hungry, and the calamities collections for world natural disasters.  This is terrific.  Thank you so much.
In preparing our offertory budget for this new fiscal year (July 2018 – June 2019) we had noticed a drop in the weekly collection.  It was also discussed with the Finance Council.  There really are no clear reasons for this, but, historically our collections tend to decline every 2 years after an offertory enhancement program has been offered to the parish.  We were averaging approximately $21,000 each week through December of 2017.  This began to decline through June of 2018, so we REDUCED our budgeted income to $19,800 per week for this fiscal year. Unfortunately, that number is averaging closer to $19,400 for the last 16 weeks!  We will continue to be vigilant with our expenses recognizing this "drop" of weekly income.
Many blessings,
Father Jim