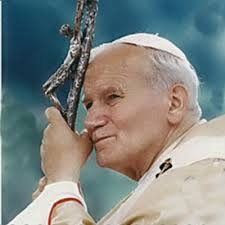 Event details
October 17, 2018
6:30 pm
Parish Community Center McIntyre Room 1905 Portage Trail Cuyahoga Falls, Ohio 44223
3309298361
If you're wondering if there's more to life than just "getting by" and want to focus on finding authentic joy, then discover the extraordinary vision for humanity known as the Theology of the Body. Given to us by Pope Saint John Paul II, the Theology of the Body is renewing marriages, awakening vocations, healing deep wounds, and setting people free to live the life of greatness to which we are called.
Why should you attend? This summer the main teaching points in the Theology of the Body were integrated into the K-8 religion curriculum for the Cleveland Diocese. While the newly revised curriculum is undergoing review and approval by Bishop Perez, parents, teachers and all adults can prepare to share TOB with the students and others by learning and living these truths themselves.
An Introduction to the Theology of the Body: Discovering the Master Plan for Your Life By Christopher West
For men and women –4 Wednesday evenings (2 lessons/week)
Register by Sept. 19th
Dates: Sept. 26th – October 17th
Time: 6:30 – 8:30 pm
Place: Immaculate Heart of Mary, McIntyre Room
Please bring $20 to the first class for the workbook.
The Theology of the Body series will be facilitated by Jennifer Ricard who has a Master's degree in Theology, has been certified through the Theology of the Body Institute and has 12 years of experience teaching Theology of the Body
Register by phone or email to: Immaculate Heart of Mary Church
1905 Portage Trail, Cuyahoga Falls, OH 44223
(330) 929-8361 ext. 16
jricard@ihmcfo.org